Mar 12
5
By Jon Busdeker
Belinda Messer wore a leopard-print bra, purple underwear and brown boots at work last Friday.
And nothing else.
Messer is a barista at Java Girls on Lee Road in Orlando, a coffee shop where the all-female staff wears very little while preparing lattes, frappuccinos and espressos. Some days, the uniform is lingerie; other days, bikinis.
"We like showing off what we got," said Messer, 20.
Java Girls, which opened in November, employs "bikini baristas." The concept, originated in the Seattle area in the early 2000s, has since spread across the country, with shops in California, Texas and Oregon.
Java Girls, a franchise co-owned by brothers Todd and Bill Brognano of Vero Beach, is thought to be the only bikini coffee shop in Central Florida. There are more than 10 Java Girls locations in the U.S.
"I thought it was an interesting take on the coffee industry," Todd Brognano said. "This is the kind of place where you can have a little fun and get your coffee and get on down the road to work."
So far, it has attracted both men and women. But mostly men.
"All men love pretty women," Brognano said. The coffee is pretty good too, he added.
"I don't care how pretty the girl is, if the coffee's not great, you're not coming back."
Housed in a former hot-dog stand in front of a shopping plaza anchored by a Sam Ash music store, Java Girls offers both drive-through and walk-up window service. Besides coffee drinks, the menu includes breakfast sandwiches, smoothies and desserts.
Last week, barista Nicole Williams, 20, wearing black lingerie, greeted three guys at the walk-up window. She smiled and in a flirty voice said, "Morning … how are y'all today?"
Williams, of Winter Park, answered an ad on Craigslist for the job. She likes making coffee, she said, and doesn't mind the revealing uniform. The best part of her work day: Watching first-time customers pull up to the window.
"I love seeing people's reactions," Williams said.
When they aren't making coffee, the women — in their bikinis or lingerie — stand out near Lee Road and entice passing motorists by waving a sign that reads: "Now Open Extra HOT Coffee Spot."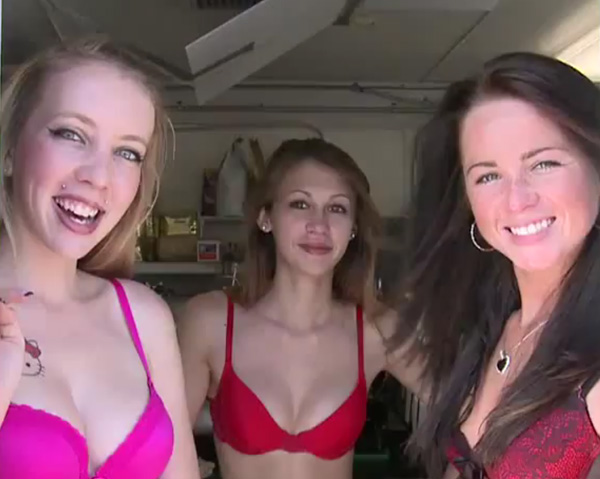 Sometimes it works and customers come in for a drink, while others just honk. Several have called out "Marry me" to Williams.
The baristas near the road have raised the ire of a few passers-by. Orange County deputy sheriffs responded to at least two complaints in the past month but found no violations, sheriff's spokeswoman Ginette Rodriguez said.
Victor Derosia is a regular who lives in DeLand and works near Java Girls. He stops in most days for his morning jolt.
"It's the closest coffee place," said Derosia, 32.
That's the only reason?
"Well, no. It has a nice view," Derosia said.
______________________________________________
Java Girls Orlando – Where bikini and lingerie clad baristas serve the hottest coffee in town
There's no better place in Orlando to get a steamy and hot cup of coffee than at Java Girls Orlando has great promotions to get you to come to our coffee shop. Be sure to call us to learn about any ongoing promotions or check local newspapers and magazines for Java Girls coupons.
Java Girls. Using only organic-grown coffee, Java Girls features popular coffee-based drinks are made to order to ensure a fresh and exciting customer experience.
Java Girls Orlando is the latest franchise unit of the successful Java Girls business concept, which started in Seattle and is crawling its way through America to capture the hearts of every coffee lover. Offering a full coffee menu and espresso bar, Java Girls' first Orlando location is now open at 910 Lee Road in Orlando, Florida—and soon enough a second location will be opening near the UCF campus on East Orlando.
This unique new twist on the neighborhood coffee shop has become the talk of town since it opened. Every one of our model/baristas is store-trained to make the most amazing coffee concoctions known to man. With the convenience of a drive-thru and walk-up location, you can be in and out, and walk away with a hot coffee full of taste and a big smile in your face.
At Java Girls Orlando, we strive to give customers an exceptional coffee experience where our sassy baristas wear nothing more than a bikini or lingerie in a safe and enjoyable work environment. At the end of the day, we hope that every customer will tell their friends and colleagues about it so they can come check us out.
Java Girls Orlando is focused on giving customers the ultimate specialty coffee experience—with a sensuous twist. We carry only the best organic-grown coffee for the freshest taste in town.
Java Girls Orlando features beautiful bikini and lingerie-clad baristas ready to serve you a variety of specialty coffee concoctions and a smile on your face thanks to their great personality.
Java Girls Orlando knows that when you want coffee, you need a little extra pick-me-up and our drive-thru location makes it convenient to get your coffee fix—and a great reason to smile!
Java Girls Orlando features baristas ready to make a coffee lover out of every customer at our newest location at 910 Lee Road in Orlando, Florida. Come see what everyone's talking about.
Java Girls Orlando is on Facebook and this is the best place—other than visiting us in person—to get a close up look at our bikini and lingerie baristas. Over time, we plan to release promotions and coupons for those of you who "Like" us and keep a close watch on your Facebook wall for Java Girls Orlando updates.
To connect with us, search for "Java Girls Orlando" and once you're there, click on "Like" and you will start following our Facebook Page.
Java Girls Orlando is open for business and our bikini and lingerie baristas are ready for you. Are you ready for them?